Water Proofing for Water Tank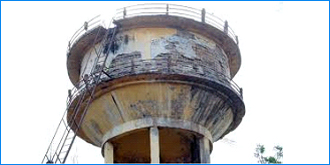 Dr.Terrace is the senior most water proofing contractor in chennai (since 2002) by using German technology.

Dr.Terrace Civil services is one of our excusive division which is Trade mark registered ISO 9001-2008 certified company.

We are the distributor and authorised applicator for worldwide leading company like FOSROC, Dr.fixit, and SIKA and tied up with Malaysian company like Green seal and implementing the latest technology in civil industry in and around south India.

We have separate team for treat both concrete and brick wall made water tank.

We know we judge by our client hence our methodology will be highly result oriented,

"The unique features in our company are will ask payment only after stopped the water leakages from your water tank"

Step 1: - Wash your water tank inside with required tools.
Step 2 :- Finding the micro cracks/ Micro pores and treat them with multiple water proofing sealant.
Step 3 :- It's our trade secret cannot disclose now.
Step 4 :- Three coats of LIQUID PLASTIC (Premium grade) each after completely dried.
Step 5 :- It's our Trade secret cannot disclose now.
Step 6 :- Our people would come and test and analys and test than collect last part payment.
Step 7 :- Every 25mins once should vibrate/mix the chemical through 850rpm mixing machine.

"Since Non-Food grade cheap material can cause harm to human body"

"We use only FOOD GRADE chemicals in water tank which is worldwide leading brands"