Our Services
Summer Cool coating for Terrace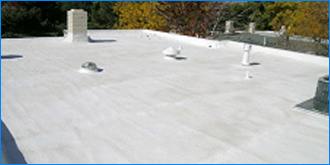 Cipla Technologies& innovation (P) Limited is the pioneer in heat reduction technology by applying "Terrace Cool coating" on the terrace of buildings. Based in Chennai Tamil Nadu, our "Terrace cool coating" reduces the heat by 40% which has been proved by infrared and Center for Energy Environmental Science and Technology.

We use best and original imported UV resistant and reflecting material which works by reflecting off the sunlight, thereby reducing the heat and it also has microspores that block the sunlight. Even at 1.00 P.M there is no heat on Terrace wherever allied our "Terrace Cool Coat"

The Complete anti leakage property of our roof coatings during monsoons provide a comfortable environment to the buildings. With its brilliant solar heat reflecting property, our roof coatings keep the building cool even in the peak afternoons. Easy to use, our water and heat repellant paints provide a favorable ambience to the buildings.
Cipla technologies&innovation(P)limited dealing with this kind of product and service for the past many years .The company is constituted by an experienced Chemist, basically a Paint Technologist having wide exposure in the field. Most of the Products are approved and used by Government Sectors like, Airport Authority of India, Southern Railway, ONGC (Oil and Natural Gas Corporation), Govt. Transport Corporations, Corporate Companies, Deemed University and Educational Institutions.

The particular Product "Terrace cool coat" has been developed in the state of art of technology which is highly useful to the society to live comfortably during summer days. We always look for excellence in quality, timely completion of orders within stipulated time frame and superior customer service. Standing on the pillars of dedication, devotion and determination, we are one of the trustworthy names of suppliers and also applicators.
Technical Details

Base

Pure original Eromate with German technology

Weight of the kit

25kgs

Components

Single ( Pure Terrace cool coating is single component in factory made )

No. of Coatings

2 is sufficient

Coat thickness

600-1200Microns

Color

Bright -White

Sheen

Flat

Emissivity

0.15

Volume solids

89%

Reflectivity

117SRI

UV Reflection

90%

Conductivity

0.098 W/m/K

Application Temps

33F to 190F (0 to 88C)

Operation temps

-40F to 200F (-4 to 93C)

Drying time

Touch Dry in 30mins ( March, April, May)
1 hour – Less than 90 degree

Re-coat

1hour

VOC content

None

Pull-off-Strength

500Psi

Flame Spread

Nil

Smoke Developed

Nil

Abrasion resistance

Excellent

Adhesion Strength

6Mpa = 6nm3 ( Newton)

Water Proofing ability

Yes better than cement

Accelerated aging

Excellent

Cross hatch adhesion

100%


We can't disclose all the technical details of material all we use the above details given just for a sample we have best material than this and cheap materials than this.

Advantages

The unique advantages in Dr.Terrace civil services is we are dealing with almost all the manufacturer in India and import raw materials from more than 35 companies hence needless to sell or push any one single product to you.

Every manufacturer will say "Our product is the best" will they give warranty in writing for 7 years?

The answer is NO why they are not able to give? Since they can't give service they won't be able to give warranty.

As one of the senior most applicator we tested /utilized/used and seen the life of most of the company's material hence we would suggest best out of that and also will give choice for economic products in decent quality.

Benefits and Costing

Benefits

Ideal for RCC, Asbestos, Terracotta tiles, Plastic water tanks etc.,
Water based coatings. Non-hazardous and environmentally safe.
Wonderful thermal insulation effect.
Total Protection to roofs from solar heating.
Screens IR and UV radiations.
Algae, Fungus resistant.
Saves Money! Reduces air conditioning bills and repairs to corrosion damage.
Good adherence to cement, wood, metal and etc. substrates.
Heat seal in summer & water seal in winter.
Very high radiant head reflectivity and very low thermal conductivity to provide.
Wonderful thermal insulation effect.
Maintain good effects within the temperature range of -40 C~200 C.
High fire resistance rating.
Waterproof but allows buildings to breathe.

Costing

Terrace cool coating cost you just Rs18/Sft and Rs 25/Sft (universal price no bargain).
Anti-leakage coat cost you Rs 45/ square feet (universal price no bargain).
The price includes 7 years warranty for the work we did.

We also deal with economic materials (Second quality) which may cost Rs 6/Sft /Coat for Terrace cool coating and Rs 9/Sft/coat for water proofing but can be done without warranty. The reason we have such a chemical is in order to survive in the competitive market and do business with customer who select contractor only based on quote.

"We proud our self t for we are the one and only company who have fixed price in the civil industry"

We don't do junky monkey marketing that mean not giving high quote with buffer amount and finally reduce and finalized with maximum profit.

Anyone can finalize the sales with us; you need not to be expert in bargaining since our price all are fixed and same for all.
Dr. Terrace civil services(P)Limited
No.8A, Kodambakkam high road.
Nungambakkam,Chennai-34
Managing Director : Mr.Jai Krishnan
Sales : Mr.Kishore
Land line - 044-43090869