Water Proofing for Bath room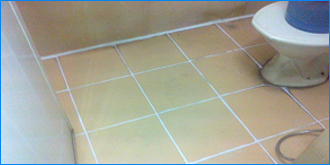 Dr.Terrace Civil services (P) Limited is the expert in treating your bath room leakages, as this picture after treating your bath room there won't be any ugly look in your bath room just look like newly layed tiles that joints also will become normal dull color in 3 days .
Advantage:
With out breaking the tiles will test and find the leakages.
Will treat with German technology.
7 years warranty for treated bath room.
Blue-Lamp treatment also available for remove existing water.( For special cases)
Having separate own employee team to treat your bath room.
Identified company uniform weared technician would treat hence needless to worry about safety.
Water proofed , soap water proofed.
Acid proofed.
Alkaline, Phenol proof,
Only civil company which is having own service team to attend complaint.
Using Multi-sealants which is U.K based Speciality chemicals for acid and water proof .

"Economy Cost just Rs 5000/Bath room" (Fixed- No bargain please)

Your plumber / Meason may charge Rs 35000/Bath room.

"Very economy Just Rs 5000/Bath room"
" Cheap Powder Based Tile Grout are available but result will not be there hence we dont use that "